I-80/Hwy 65 Construction Updates (Jan 11)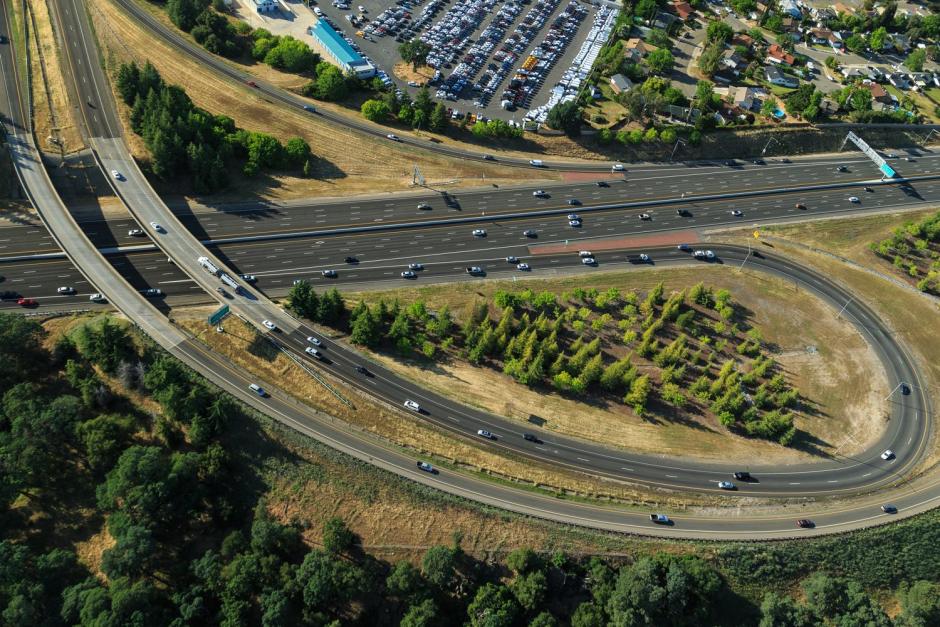 Caltrans, in coordination with the Placer County Transportation Planning Agency, is leading construction of phase one of a $50 million Interstate 80/Highway 65 Improvement Project with the goal of alleviating traffic congestion along the corridor.
Below is the latest construction update provided by Caltrans on Jan 11, 2018:
Antelope Creek Trail (Placer County) The trail between Antelope Creek Drive in Roseville and Springview Drive in Rocklin will be closed through spring 2019 due to construction on the northbound State Route 65 viaduct.
January 18 – 19
State Route 65 (Placer County) between the Interstate 80 junction and the north end of the SR-65 viaduct: Northbound motorists can expect the #2 lane, or right-hand lane, closed from 10 p.m. Friday to 7 a.m. Saturday for concrete work.
January 18 – 19
Interstate 80 (Placer County) westbound I-80 connector to northbound State Route 65: Westbound I-80 motorists can expect the connector ramp to northbound SR-65 closed from 10 p.m. Friday to 7 a.m. Saturday for concrete work. Motorists should follow the signed detour route.
January 15 – 16
Taylor Road (Placer County) at the State Route 65 viaduct: Motorists can expect one-way traffic control on Taylor Road from 10 p.m. Tuesday to 7 a.m. Wednesday for falsework installation.
Construction Notes:
Crews continue to place rebar and pour concrete to construct the new bridge deck that will serve as a third lane of the northbound Highway 65 viaduct. The contractor is scheduled to pour concrete during the overnight hours today, January 11, into Saturday morning. Motorists can expect overnight lane closures on the viaduct portion of northbound Highway 65. During the same time period, crews will close the westbound Interstate 80 connector ramp to northbound Highway 65. The next concrete pour is scheduled next week on January 18. Construction crews will continue working on the structure throughout the winter. The work schedule will depend on the weather
Taylor Road: The contractor is installing a temporary support structure, called falsework, over Taylor Road on Tuesday night, January 15. To accommodate this work over the roadway, flaggers will be handling one-way traffic control. Motorists can expect some traffic delays. Lane restrictions will be in place again when the contractor does a concrete pour on this segment of the viaduct later this month.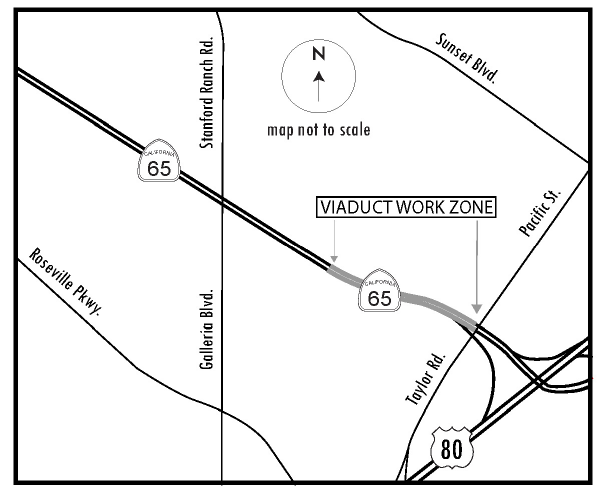 Construction activity on the northbound Highway 65 roadway widening and freeway ramp improvements is in winter suspension. Work will resume in the spring.
The sidewalk on the north side of the Galleria Boulevard/Stanford Ranch Road overcrossing is closed for construction through January.