Excessive Heat Warning Through Labor Day Weekend
The National Weather Service has issued an excessive heat warning Thursday, August 31, through Monday, September 4, at 8 p.m.
Placer County libraries will operate with extended hours as cooling centers. The following libraries may stay open until 8 p.m., one hour past their normal closing time, on Thursday; and until 6 p.m. on Friday:
Rocklin: 4890 Granite Drive [map]
Granite Bay: 6475 Douglas Blvd. [map]
Auburn: 350 Nevada Street [map]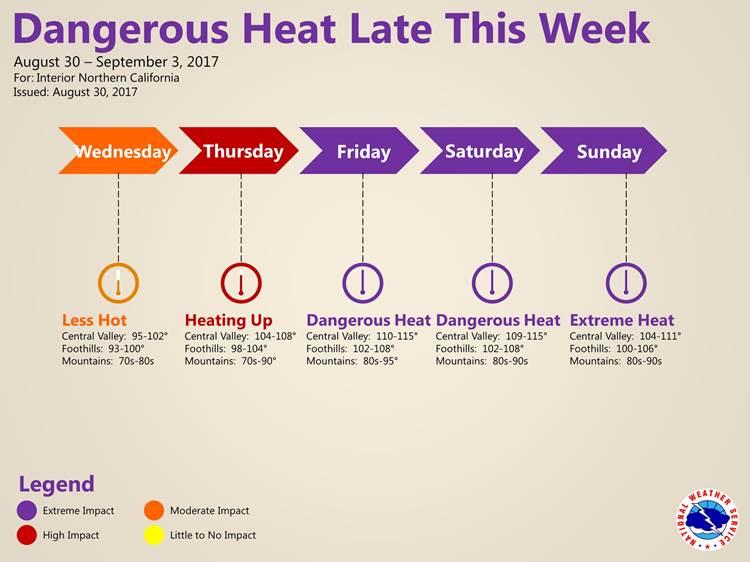 TEMPERATURE: Daytime highs will range from 108 to 113 across much of the Central Valley with overnight lows in the upper 60s to lower 80s in the Central Valley and foothill thermal belts. The hottest temperatures are expected Friday and Saturday, then not quite as hot Sunday and Labor Day.
IMPACTS: High risk of heat related illness, especially for sensitive groups: elderly, children, sick people and pets and livestock.
ADDITIONAL IMPACTS: Plan outdoor activities accordingly! Try to schedule holiday weekend activities in the morning or evening when temperatures will be cooler, and with less exposure to direct sunlight.
PRECAUTIONARY/PREPAREDNESS ACTIONS: Take extra precautions if you work or spend time outside. When possible, reschedule strenuous activities to early morning or evening. Know the signs and symptoms of heat exhaustion and heat stroke. Wear light weight and loose fitting clothing when possible and drink plenty of water.
More information can be found here.