Rocklin Clean Up Day
3 Drop Off Locations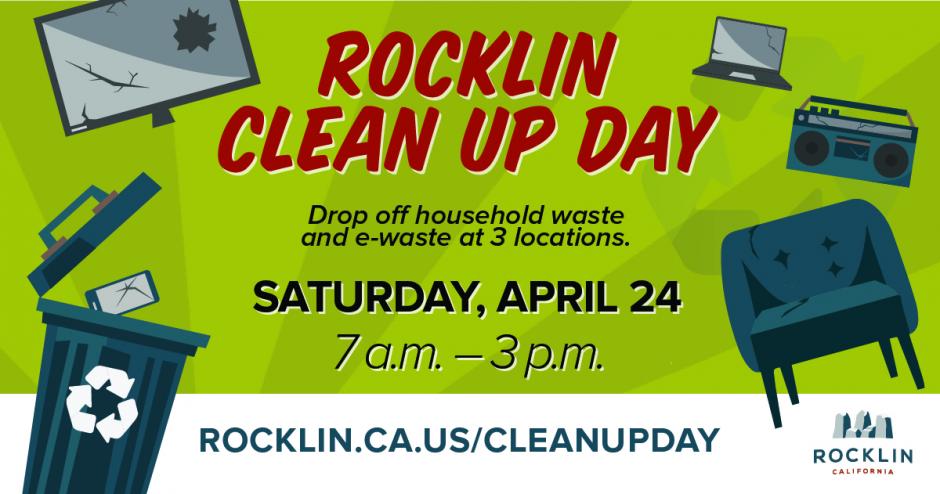 The following E-Waste is allowed:
Computers, monitors, laptops, computer peripherals
TV's (plasma, LCD), stereo equipment, speakers, VCR, tape recorders, etc.
Phones, radios, calculators, answering machines, cash registers, microwaves
The following items are not allowed for Clean Up Day:
No refrigerators, freezers, or air conditioning units
No washer, dryer, stoves, or dishwashers
All lawn mowers / weed eaters are to be emptied of oil and fuel
No pool chemicals, motor oil or propane tanks
No car batteries
No hazardous materials such as paint, pesticides, and ammunition
No tires
Trailers must be no larger than 4' wide by 8' long
No U-Haul type trucks
Anything above 2-cubic yards will be charged
Bring items between 7:30 am – 3:00 pm to the following locations:
Sierra College, Overflow parking lot on Rocklin Road & El Don
City of Rocklin Corporation Yard, 4081 Alvis Ct. (Open until 3:30)
Whitney Park, 1801 Whitney Ranch Pkwy
Must unload your own trash into dumpster | Help will be available for heavy items
Required: Driver's License or utility bill for proof of residency
For more information, call 916-625-5200
NEW PROGRAMS OFFERED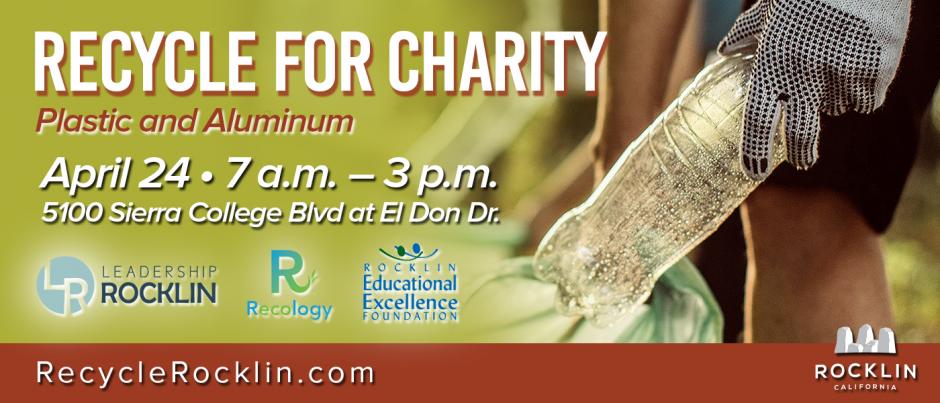 Bring your aluminum and plastic recycling to help benefit Rocklin schools through the Rocklin Education Excellence Foundation! The program is newly offered by Leadership Rocklin with partnership by Recology. Taking place only at the Sierra College site from 7am to 3pm on April 24th.
For more information, check out RecycleRocklin.com

The Mattress Recycling Council is pleased to join this event to bring convenient mattress recycling to Rocklin residents! Mattresses, box springs, and futons detached from the frame or base are accepted by this program. This service will take place at Sierra College and Whitney Park on April 24th during the same time as the Rocklin Clean Up Day.
For additional information, check them out online at ByeByeMattress.com or on Facebook and Twitter @ByeByeMattress.